Aug 9, 2022 12:24 PM Central
Angela Gregory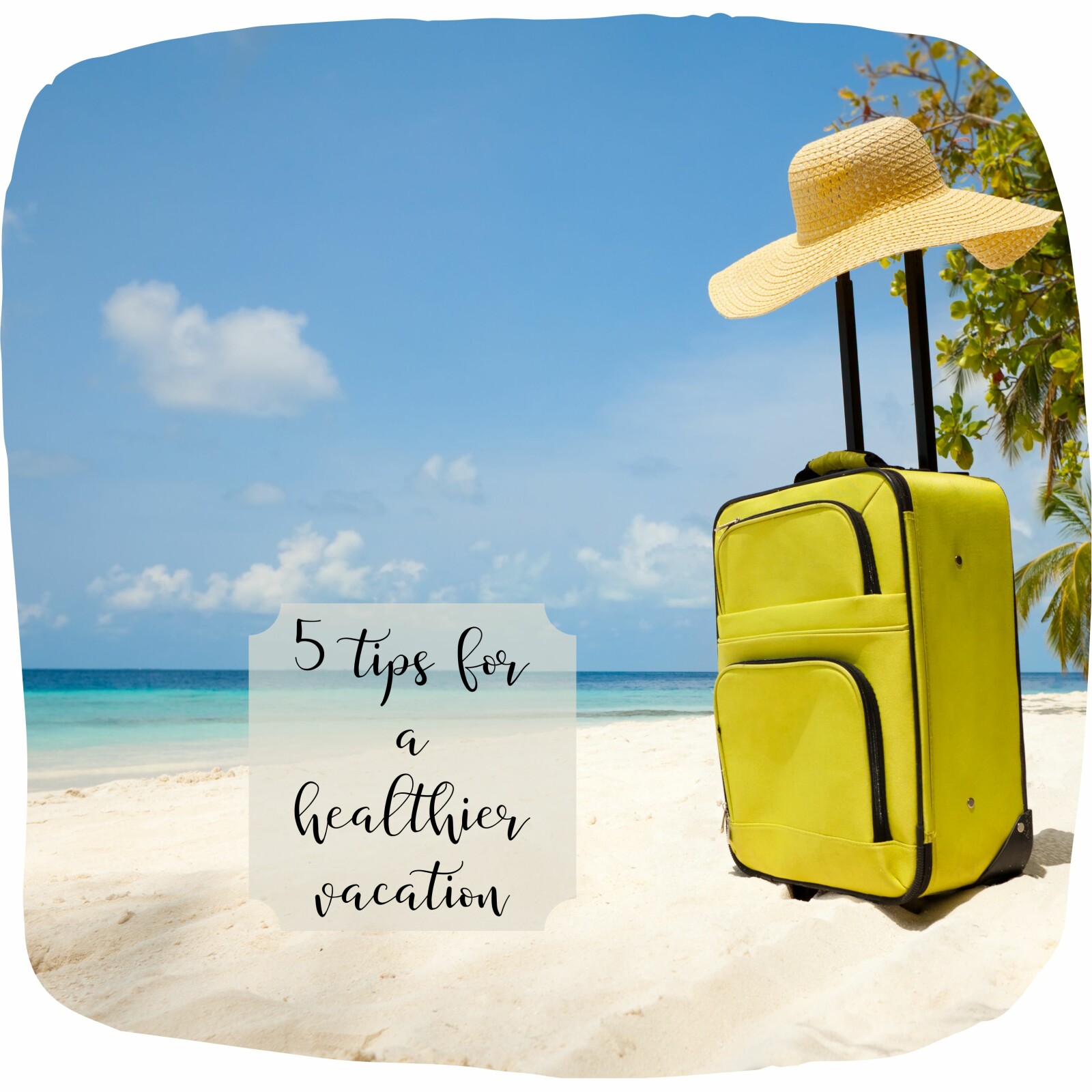 It's been a minute since my last blog post. Summer kind of took over and ran away with my life for a bit. But I'm back and ready to begin again after a short, but much needed, vacation.
And speaking of vacation, why not let that inspire my next blog? Read on for some trips or staying healthy while traveling and on vacation!
I will be the first to admit that staying on track while traveling and on vacation is far from the first thing on my mind. I don't want to have to think when I'm taking a break from reality. And I love easy and simple! But I also love feeling my best and want to be able to fully enjoy my time away. So I try to choose healthy as often as possible. Here are a few ways I do that:
Take snacks with you. Some that I find easy to grab and go, even if I'm flying, are trail mix, rice cakes, Lara bars (or another healthy fruit or granola bar), and fresh or dehydrated fruit and veggies.

Stay in a place with a kitchen. Even if you don't plan on cooking the whole time, you'll want a kitchen. Trust me. You get a bigger area to store all the yummy goodness that's going to fuel you while on vacation. And you might just find inspiration to cook a time or two.Or at the very least, have salad ingredients on hand for a healthy, throw together meal. Other healthy options to stock your kitchen with might include smoothie ingredients and oatmeal.

Scope out healthy eats before you arrive. You can find healthy choices when eating out. You just may have to look a little harder to find them.

Get active! Go for a hike, find other outdoor activities, take your yoga mat and find your zin, head to a gym (some places will have one included in the price!). Whatever you do, make sure you move your body. Don't just sit and let your vacation pass you by.

That being said, also be sure to get some much needed R&R. Grab a book, find a hammock, and just enjoy being.
I know this is far from a complete guide to healthy travel. But it's a start. I promise just the little things above will have you feeling your best on your time away.
Mar 22, 2022 03:10 PM Central
Angela Gregory
I've been practicing yoga for years now. I admittedly did not embrace it immediately. It moved way too slow for my ever racing brain. It took some time to realize that that was the exact reason I needed yoga in my life.
Over time I grew to fall in love with the practice and even became a certified instructor and yoga life coach recently. I am nowhere near a master and there are plenty of poses that are far from easy for me. But you want to know the hardest one? Savasana.
Should be easy enough, right? I mean, you just lay there. Let everything in your mind go. Yeah right. My brain does not like to settle (I may be a tad ADHD). If you're anything like me, as soon as the yoga instructor tells you to lay on your back and relax, your mind goes into overload and you become fidgety. Just like every night when I lay down to sleep. My mind fills with all the things I should have done, the things I need to do, or things that have nothing to do with anything but just want to make an appearance. So goes the Savasana pose.
You get where I'm going. It's hard, y'all! Stilling your mind. Allowing yourself to just be. Letting things go. Accepting where you are in the here and now. Loving yourself as you are. Ahhh, how do I do that???
So yes, the savasana pose has been the absolute hardest for me to master. I can learn to do all the twisty, bendy things. I can loosen up my muscles and joints (very slowly) and allow them to move in ways I never thought possible. Weird poses have suddenly become comfortable, resting poses.
My mind however, is a whole other story. But I'm learning, slowly but surely. It does get easier. I'm learning to allow myself to slow down and accept the here and now. I'm learning to be at peace, allowing myself to just be, and take one moment at a time. It's a process. And one I will continue to work on every day. Because the days I allow myself to at least try, go so much smoother. I feel a peace and calmness wash over me. It's the perfect way to reset my mind and refocus on things that need to be done. This, my friends is what yoga is all about. It can simply be summed up in the savasana (or corpse) pose.
PS. Need a little help and direction yourself? Schedule a quick
15 minute session
and let's chat to see if my yoga life coaching is for you.