Feb 1, 2022 05:35 PM Central
Angela Carroll
Ask and you shall receive!
I'm not one to blog a lot about food, at least when it comes to giving out recipes. I'm that type of person that if I go to a blog for a recipe, I just really want to grab the recipe and be on my way. So I'm going to make this short and sweet for y'all!
I recently shared on social media pics of homemade tomato basil soup and Mediterranean grilled cheese. It garnered quite the attention and had some asking for the recipe. So...here you go! Hope you enjoy it as much as we did!
I'd love to hear what you think in the comments below! And if you're looking for more healthy recipes and meal plans, I invite you to check out my Intro to
Healthy Eating mini-course
. It's chock-full of goodies!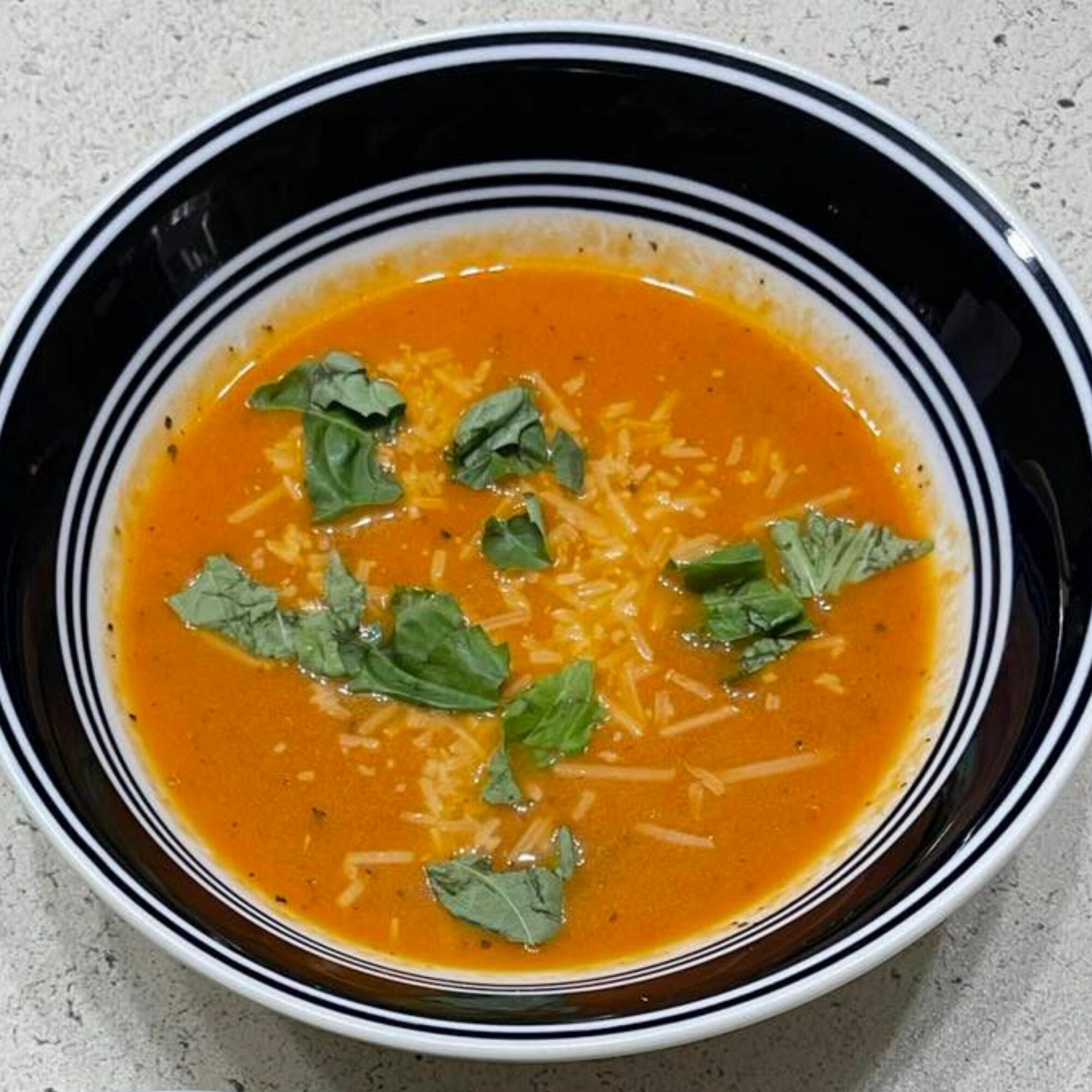 Taken from Fixate Cookbook
Serves: 8 (1 cup each)
Ingredients:
- 4 tsp olive oil
- 1/2 cup chopped carrots
- 1/2 cup chopped onions
- 2 tsp dried basil leaves
- 1 (28 oz) canned tomatoes - I used stewed tomatoes
- 3 cups low-sodium vegetable broth
- 3/4 tsp sea salt
- 1 1/2 cups unsweetened almond milk
- shredded parmesan cheese
- sliced fresh basil leaves
1. Heat oil in medium saucepan over medium-high heat.
2. Add carrots, onions, and dried basil; cook, stirring frequently 4-5 minutes, or until onions are translucent.
3. Add tomatoes, broth, and salt; cook, stirring frequently 2-3 minutes or until it reaches a gentle boil. Reduce heat to low. Gently boil 15 minutes.
4. Place soup in blend, in 2 or more batches if needed; blend until smooth.
5. Return soup to saucepan. Add almond milk; cook over medium-low heat, stirring frequently 1-2 minutes or until heated through. Do not let soup come to a boil.
6. Garnish with parmesan and fresh basil.
---
Mediterranean Grilled Cheese
Found on Pinterest and adapted by me ;)
Ingredients:
- bread
- butter
- block feta, sliced
- spinach
- red onion, sliced
- tomato, sliced
- kalamata olives, sliced
1. Butter bread
2. Layer all other ingredients (they will likely spill over)
3. Grill sandwich on one side, carefully flip and grill second size
---
Dec 9, 2020 10:38 PM Central
Angela Carroll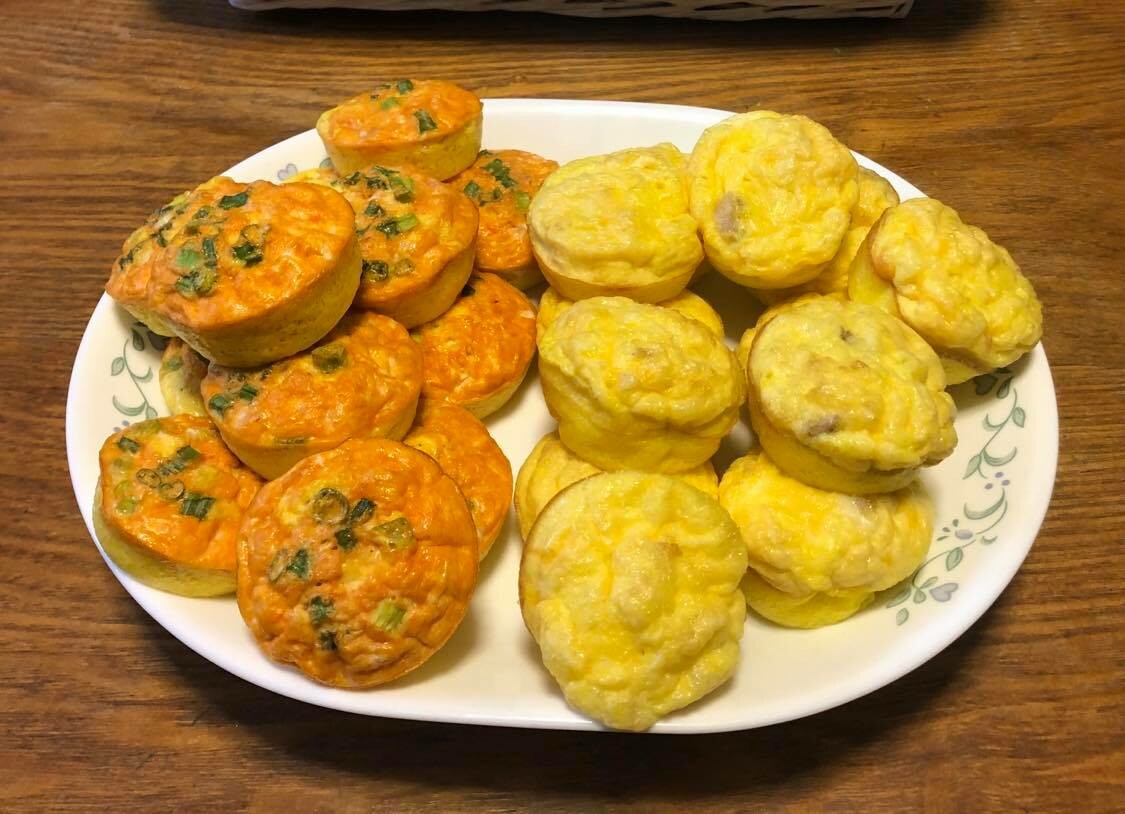 I've never been great at weekly meal prep. I try to make out our dinner menus for the week but that's about it. Actually prepping as in cutting veggies, cooking for lunches for the week, things like that...yeah, not really my thing.
But breakfast works better for me if I have some done up ahead of time. Like overnight oats or these egg muffins.
I'll be adding more variety over time. So be sure to come back often and check. Or better yet...subscribe to my email list and I'll be sure you have it in your inbox when it happens!
Start with this base recipe.
Ingredients:
- 10 large eggs
- 1 tsp salt
- 1/4 tsp black pepper
Wisk together and proceed to your preferred additions below.
Once all ingredients (from chosen recipe below) are combined, divide into 12 muffin cups (sprayed or lined with silicone liners). Bake at 400 for 15 minutes.
---
Ingredients:
- 1/2 tsp garlic powder
- 1/2 tsp onion powder
- 1 tsp dijon mustard
- 2/3 cup grated cheese
- 3/4 cup cooked ham
Wisk garlic powder, onion powder, and mustard into egg base. Stir in cheese and ham.
---
Ingredients:
- 1/2 tsp garlic powder
- 1/3 cup buffalo sauce
- 1/3 cup chopped green onions
- 1 cup chopped cooked chicken or turkey
Wisk garlic powder and buffalo sauce into egg base. Stir in green onions and chicken/turkey.
---
Aug 13, 2020 05:45 PM Central
Angela Carroll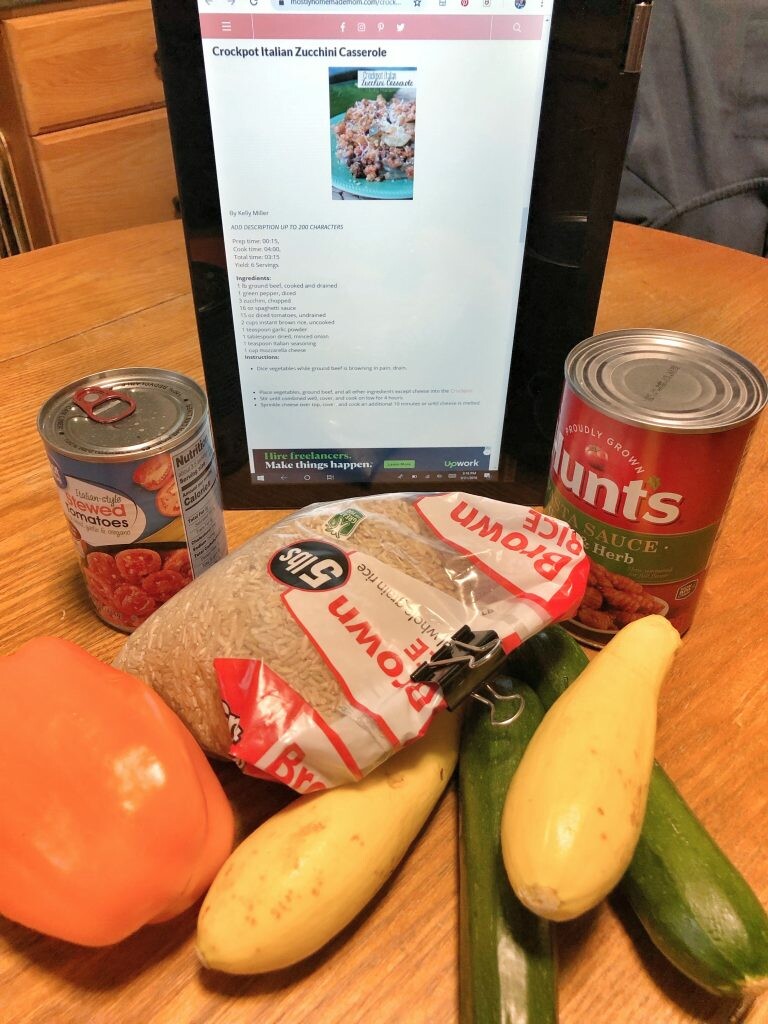 Have you ever had a dinner idea but not a recipe, so you head to Pinterest to find one? Or maybe you have no idea at all, but again...Pinterest to the rescue! That would be me. But it's very rare that I actually follow the recipe exactly. I pin them, print them, and then almost always end up changing them in one way or another. What can I say, I guess I just need something to jump start my brain. It's not that I do it on purpose. More often than not, I just have a different set of ingredients and feel like I can sub in and still make it good. I'm usually not wrong. That would be the case for this recipe. Out of 10 ingredients, maybe 2 stayed the same. (I'm guessing at the numbers, y'all. I didn't really count.) But, I did fix it in the crockpot!
If you're curious, here are the ingredients I switched up:




1. Ground turkey in place of ground beef. I had some on hand and wanted to use it.




2. Fresh onion in place of dried. This is just my personal preference.




3. Orange bell pepper in place of green. Again, it's what I had on hand at the time.




4. Stewed tomatoes in place of diced. Another personal preference.




5. 2 small zucchini + 2 small yellow squash in place of 3 zucchini. It's what I had and needed to use them. Plus, I just love yellow squash and zucchini together! Yum!




6. Montreal seasoning in place of Italian. It's what was in the pantry, and it worked! Yay!




7. No cheese. This was by shear accident. I totally forgot it. Oops!
*And may I make one quick suggestion?
Crockpot liners!
Y'all, they are the best things ever! There's almost no clean up! And I have, at times, been known to grab a twist tie and bag up the leftovers just like that. Saves a dish! Hey, we don't have a dishwasher...let me correct that...we have 2 dishwashers. Us! And if we can save ourselves a dish here and there, we do!
Something else I find myself doing more and more over the years is looking at the finished product and thinking, "oh it would be good with..." In this case, it was mushrooms. I love mushrooms! And I think it might be an excellent addition. So, if you give this a try and decide to add them (or tweak the recipe to meet your own needs and taste) let me know how it turns out!
*As an Amazon affiliate, I will receive a small commission when you buy through these links. FYI, it doesn't cost you anything extra.
Thank you for your support and helping me help others. :)
Slow Cooker Turkey & Veggie Casserole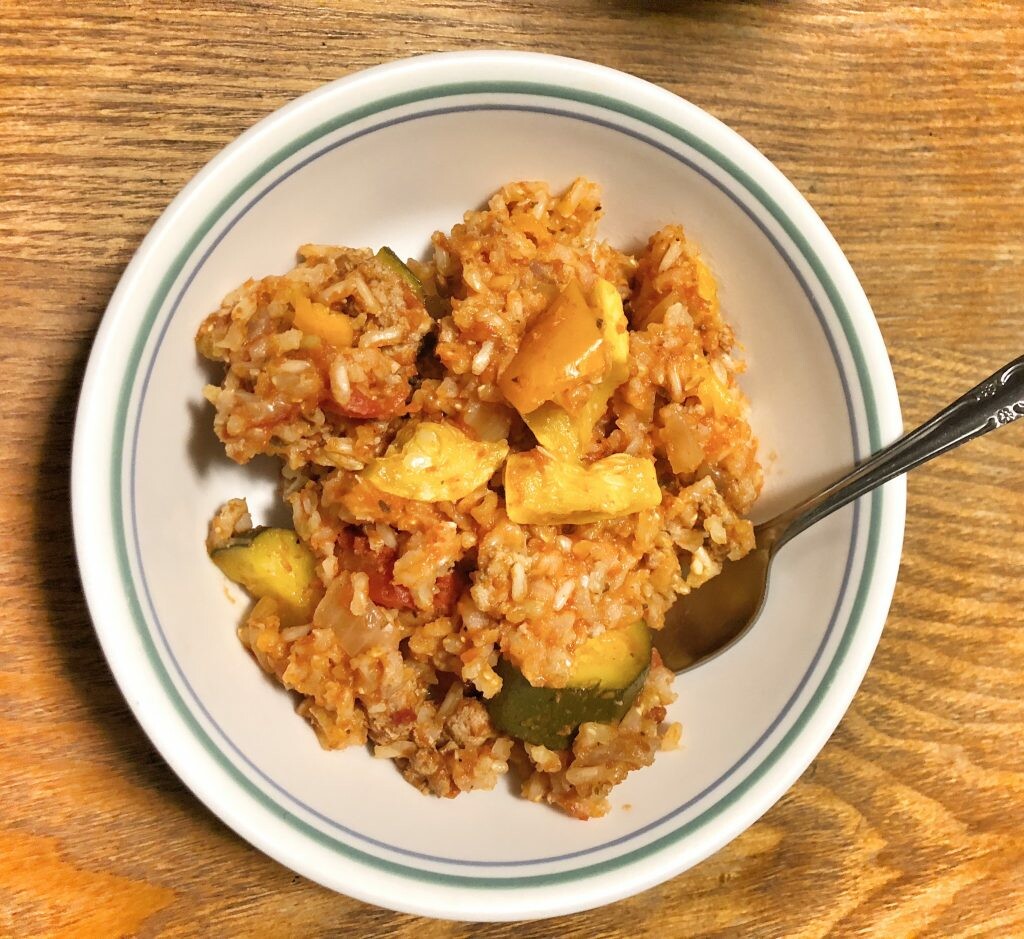 Ingredients
1

lb

Ground Turkey

cooked and drained

1

Onion

chopped

1

Bell Pepper

any color

2

small

Zucchini

chopped

2

small

Yellow Squash

chopped

24

oz

Spaghetti Sauce

14.5

oz

Stewed Tomatoes

2

cups

Brown Rice

uncooked

1

tsp

Garlic Powder

1

tsp

Montreal Chicken Seasoning

1

cup

Shredded Cheese

your choice
Instructions
Brown meat and chop veggies. (I like to cook the onion with the meat)
Add all ingredients, except cheese, to crockpot.
Stir well to mix, cover, and cook on low for 4 hours.
Add cheese and cook an additional 10 minutes, or until cheese is melted.
Enjoy!
Love this recipe? Check out my new Healthy Eating Made Simple program. Full of meal plans, healthy recipes, and more! You can check it out
here
.